Project Management - Module
Program Management - Module
Portfolio Management - Module
Support for Multiple Companies/Departments
Enterprise Project Prioritization
Project Lifecycle
Location Hierarchy
Personalized Project Management
Portfolio Management
Increase Management Productivity

Adopting the WebDirector© will allow your company to:
Personalize project management for each end user
Manage projects based on your company's project
Prioritize and evaluate projects based on multiple criteria
Integrate with Microsoft Project
Increase management productivity
Project Management - Modules
| | | |
| --- | --- | --- |
| Risk Management | Issue Management | Skills Management |
| Resource Management | Scope Management | Change Management |
| Document Management | Project Prioritization | Deliverable/Task Management |
| Project Process Map | Time Entry & Reporting | Project Feedback |
| Service Requests | Action Logs | Support Logs |
| Project Financials | Deliverable Financials | Status Reporting |
| Microsoft Project Integration | Dependencies | Satisfaction Assessments |
| Project Metrics | Project Milestones | Auto-Generated Resume |
| My Home Page | Project Routing | Project Entry |
| Templates | Downloading | Project Filters |
| Project Phases | Deliverable Phases | Print-Ready Reports |
| Assignment to Program Work | Forecasting | Labor Cost Tracking |
| Online Glossary | | |
| | | |
| --- | --- | --- |
| Risk Management | Issue Management | Change Management |
| Program Milestones | Program Feedback | Status Reporting |
| Action Logs | Program Metrics | Print-Ready Reports |
| Work Totals | Program Total Financials | Downloading |
| Online Glossary | Document Management | |
Portfolio Management - Modules

| | | |
| --- | --- | --- |
| Organization Workflow | Portfolio Metrics | Portfolio Level Reports |
| Templates | Security Model | Financial Reporting |
| Prioritization | Alignment with Corporate | Strategies |
| Time Reporting | | |
Support for Mltiple Companies/Departments:
In the past when a company had multiple holding companies or departments that wanted to use an enterprise solution there was a co-mingling of data when logging in and using the application. This detracted from the usability of the system as people, processes, and reports had to be manually filtered of data to be effective.
For most companies who wanted to separate out the PM software into distinct departments or companies the options were:
Users would have to constantly filter the data to show only the names / departments they were interested in
Businesses would have to pay twice for the software
Clients would have to submit projects and keep track of multiple sites
IT support groups would have to provide twice the overhead and support
Programmers would have to write custom reports and integration tools would have to be written and maintained
With the WebDirector Enterprise Edition companies can now have a single data repository for information yet maintain the appearance of having an unlimited number of company, department, or client-specific sites. For each company a user sets up within the WebDirector , users will be greeted with their own organization charts, project portfolios, templates, users, and best practices. Best of all, there is an administrative company account such that one of the company logins can see the combined portfolio for the enterprise.

This enhanced WebDirector solution is ideal for:
Enterprise companies who wish to have different department PM solutions without having to actually deploy different tools or instances of the software
Professional services firms who would like to separately maintain every client in their own company site while simultaneously allowing the rollup of all client project work for management
Project management and consulting companies looking to host an online application to compliment their existing practices
Enterprise Project Prioritization:
Aligning resources with the highest priority projects remains a daunting challenge at many companies. Managers need to understand the highest level priorities of the company while still having the flexibility to set priorities at their own level of the company. Furthermore, a consistent "business value assessment" needs to be assigned to each project as a tool to determine those projects that have the highest possibility to increase revenue or reduce costs at an acceptable risk level.
This premise of substantiated, any-time, any-level prioritization is the realization of the new prioritization system in the WebDirector .
Project Lifecycle
Most projects go through a lifecycle from inception to close. To help visualize this process, the WebDirector © utilizes a process map that shows where different projects are located in this lifecycle. This map can be completely customized to diagram the lifecycle of a company's projects. Projects in each step can be accessed by simply clicking on the quantity link inside each box. This simple diagram has received high praise from our clients who can now visualize the lifecycle of their projects and set rules for routing projects. Powerful yet simple to use, this map is the architecture of the project management component of the WebDirector ©.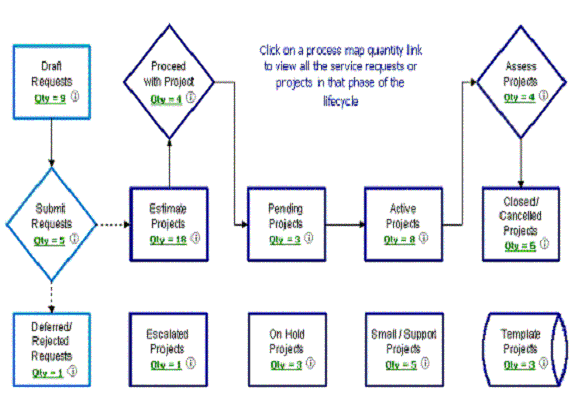 Location Hierarchy:
As globalization continues, so does the need to effectively track projects, tasks, issues, and other key project management attributes back to a geographic location and have that information roll up regionally, nationally, and internationally. The WebDirector capitalizes on the same interactive and hierarchical technology that makes our "Organization Management" so effective to enhance location reporting.
Now users can set up locations by continent, then by country, by state/region, by city, by town, and finally by building. Projects can be assigned to a primary location and every task, deliverable, issue, risk, and change can further carry its own location.
The WebDirector then automatically produces an interactive report that allows users to drill down through location information.
Personalized Project Management
The WebDirector © provides team members with quick and easy access to all project information relevant to them. My Home Page displays project information specific to the person logged on. Rather than spending time sorting through all projects, you can instantly access information for your own projects and assignments. In addition, individual timesheets are pre-populated with only those tasks, deliverables, issues, and risks to which you are assigned.
Portfolio Management
The WebDirector © comes with industry standard metrics defined in either traditional or graphical reports. The dynamic graphical charts allow executives to see how the company is managing its projects, how much time is spent on low-value projects, and how clients view the products and services you are providing. Additionally, the WebDirector © allows you to create ad-hoc reports which can be printed or downloaded into Excel spreadsheets.
Increase Management Productivity
The typical organization uses what we call the Funnel Technique to provide information to executives. Project managers receive information from the project team in many different formats and then provide the executives a fraction of the information in a PowerPoint presentation. The WebDirector © turns the funnel upside down and with minimal input from the team members and project managers, the executives receive a wealth of information and metrics.